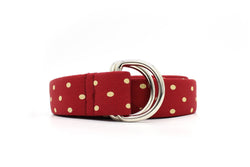 KRAGÜ DOTS SPRING RED
Inkl. MwSt. zzgl. Versandkosten (Kostenloser Versand innerhalb Deutschlands)
Lieferbar innerhalb von 2-4 Werktagen
The classic KRAGÜ: an individual designer piece. Handcrafted from a vintage tie into a belt
more details:
Standard length, suitable up to a hip circumference of 110cm 

Belt width 3.5cm

D-ring closure

Including logo box as packaging
Über uns
Mit der Vision, ein nachhaltiges und originelles Produkt zu entwickeln, das in der Modewelt seinesgleichen sucht, wurde KRAGÜ im Jahr 2012 in München gegründet. Noch im gleichen Jahr positionierte sich das junge Unternehmen mit dieser Idee auf dem 3. Platz der europaweiten Young Enterprise Competition für Jungunternehmer in London. Insgesamt nahmen über 250 000 Jugendliche aus 33 Ländern an diesem Wettbewerb teil.
Erfahre mehr
Das könnte dir auch gefallen