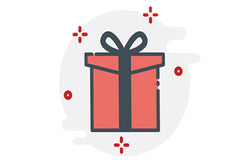 GIFT CARD
Inkl. MwSt. zzgl. Versandkosten (Kostenloser Versand innerhalb Deutschlands)
Lieferbar innerhalb von 2-4 Werktagen
Would you like to give something away, but you are not sure what exactly?
With a gift voucher from KRAGÜ, you leave the choice up to the recipient.
Your KRAGÜ gift voucher will be sent by email. You will also receive all instructions on how the voucher can be redeemed at checkout by email.

Have fun giving gifts.
Your KRAGÜ team
Über uns
Mit der Vision, ein nachhaltiges und originelles Produkt zu entwickeln, das in der Modewelt seinesgleichen sucht, wurde KRAGÜ im Jahr 2012 in München gegründet. Noch im gleichen Jahr positionierte sich das junge Unternehmen mit dieser Idee auf dem 3. Platz der europaweiten Young Enterprise Competition für Jungunternehmer in London. Insgesamt nahmen über 250 000 Jugendliche aus 33 Ländern an diesem Wettbewerb teil.
Erfahre mehr
Das könnte dir auch gefallen