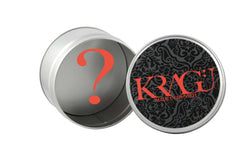 KRAGÜ CUSTOM MADE
Inkl. MwSt. zzgl. Versandkosten (Kostenloser Versand innerhalb Deutschlands)
Lieferbar innerhalb von 2-4 Werktagen
Here you can easily and conveniently pay for the custom-made KRAGÜ.

Almost there! After completing the payment, follow the next steps of customization.

Please note that, unless otherwise requested, we make the belts in a unit length that is suitable for a hip circumference of 110cm.

Of course, we also manufacture your KRAGÜ in your desired length, please let us know the size of your hip circumference by writing it down on a piece of paper and enclosing it with your tie. The maximum belt length is 115cm.
Belt width 3.5cm

D-ring closure

Including logo box as packaging
Über uns
Mit der Vision, ein nachhaltiges und originelles Produkt zu entwickeln, das in der Modewelt seinesgleichen sucht, wurde KRAGÜ im Jahr 2012 in München gegründet. Noch im gleichen Jahr positionierte sich das junge Unternehmen mit dieser Idee auf dem 3. Platz der europaweiten Young Enterprise Competition für Jungunternehmer in London. Insgesamt nahmen über 250 000 Jugendliche aus 33 Ländern an diesem Wettbewerb teil.
Erfahre mehr
Das könnte dir auch gefallen